Creamy Chicken and Rice Bake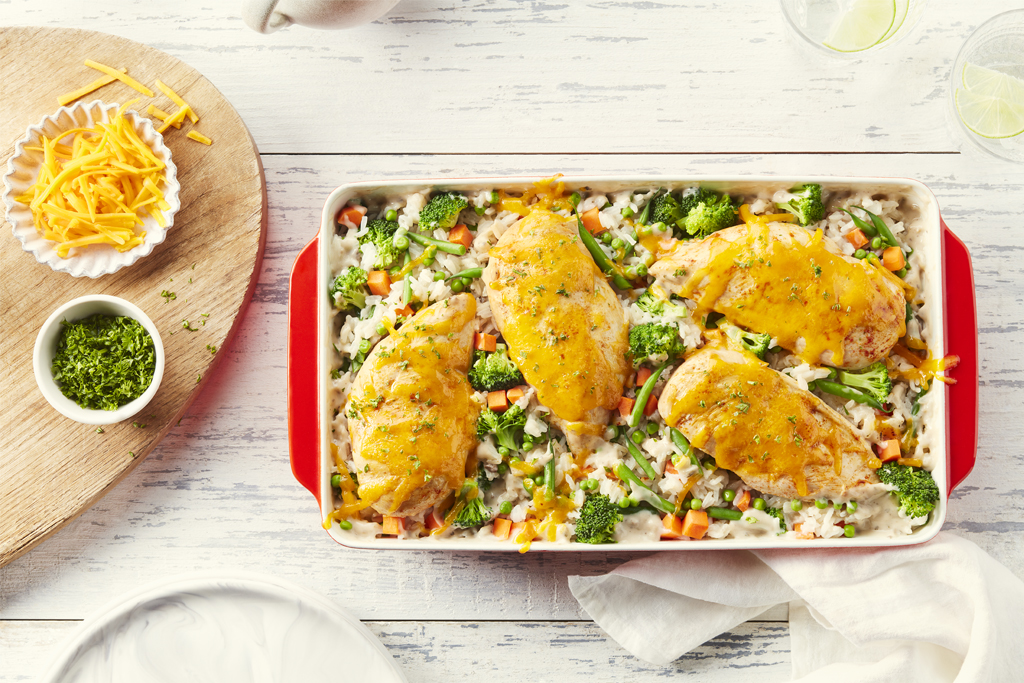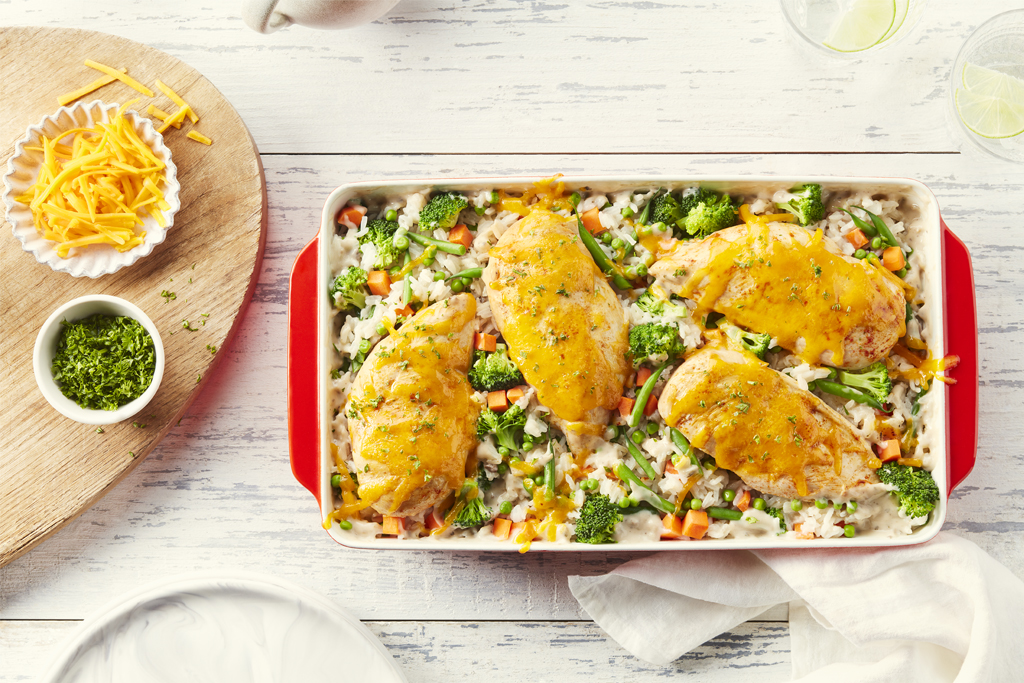 Topped with yummy melted cheese, this easy one-pot chicken dish is a great recipe that is sure to please everyone.
Directions
Mix cream of mushroom soup,water,rice,onion powder and black pepper in shallow 2 qt (2 L) baking dish. Stir in vegetables (if frozen,thawed under running water).

Top with chicken breasts. Sprinkle chicken with additional pepper,if desired. Cover.

Bake at 375°F (190°C) until chicken is cooked through and rice is tender – about 45 minutes. Sprinkle cheese over chicken. Remove chicken and stir rice before serving.
Recipe Tips
Feel free to experiment with different cheeses and dairy products. Try this recipe with parmesan cheese, cream cheese, or even sour cream.
This recipe can also be completed using chicken broth, chicken soup, or chicken stock.
Other potential ingredients include brown rice, garlic powder, and green beans.
Did you make this?
Tell us what you think.
Reviews
Freaking good

The trick is to make sure the soup, water, onion powder is well mixed together. The consistency has to be even everywhere. Then you add the rice and the veggies and mix once again. During the cooking, turn your platter around every 15 min for an even cook.

Claudie L. | September 6, 2017

The worst!

I followed the recipe and put in oven for 45 min, Rice is not cooked! at all and the chicken is hard as a rock now! I read and re read if it needed to be covered? no make no mention what so ever in your recipe! but guessing that it did! you need to include that in recipe! if that is what it needs! I ruined my dinner my organic chicken not edible now! and uncooked rice! and not enough liquid either in that recipe! Very disappointed in CAMPBELL'S! Never again will I follow one of your recipes! waste of my food and time!

With some minor changes this has become a family favourite

I've been playing with this recipe and found something everyone loves. I use cream of bacon soup and chicken broth. I layer the rice, the veggies, then chunks of chicken breast. I then put the soup, seasoning, and finally the chicken broth. I let this sit while the oven preheats. Once the oven comes to temperature I give a slight mix to make sure all the rice is soaked in the soup/broth. I let it cook for the 45 minutes and once that's done I top with shredded mozzarella and put it back in the turned off oven to let the cheese melt. It had so much more flavour! My son always liked it but the swap to cream of bacon soup got my husband on board. This is a great recipe to use as a jumping off point for a great family meal.

Samantha D. | October 3, 2019
Thank you for your review!
Please note that your review might take up to 72 hours to appear following submission.
We will let you know when it's posted by sending you an email.
Follow Us
GET MEAL-MAIL®
Sign up for Meal-Mail® to get inspiring recipe
ideas delivered straight to your inbox