Featured Collection
Chef Antonio Park crafted these recipes for The Cabin by Campbells and the La Cantine par Campbells. To visit The Cabin by Campbell's go to Toronto's Christmas Market located in the iconic Distillery District between November 18th and December 22nd. If you're in Montreal La Cantina par Campbell's located at 3547 Boul St-Laurent between November 18th and December 15th.
VIEW MORE RECIPE COLLECTIONS
Featured Product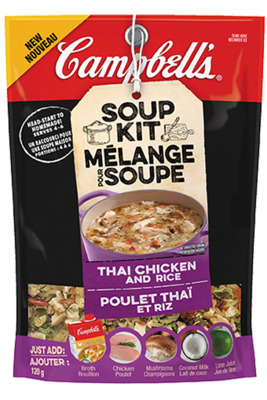 CAMPBELL'S® Soup Kit - Thai Chicken and Rice
Carefully selected ingredients such as rice, fish sauce powder and dehydrated bell peppers, onion, carrots, and shiitake mushrooms form the base of this Thai Chicken & Rice soup kit. Just add Campbell's Chicken Broth, fresh chicken breast, coconut milk, mushrooms and lime juice to create a hearty pot of fresh homemade soup in 45 minutes or less.
- An hour or less from start to finish
- No artificial colours or flavours
VIEW FULL PRODUCT INFORMATION

(opens a new window)
GET MEAL-MAIL®
Sign up for Meal-Mail® to get inspiring recipe
ideas delivered straight to your inbox