Featured Collection
Campbell's® NEW Pho broth is prepared right here in Canada, using quality ingredients and ALL NATURAL FLAVOURS. Our Pho Broth is Gluten Free and suitable for vegetarians. It's a pantry-must have for the delicious recipes here and to make your own homemade Pho – a traditional Vietnamese soup consisting of broth, rice noodles and a few herbs, combined with veggies or meat, like beef or chicken.
VIEW MORE RECIPE COLLECTIONS
Featured Product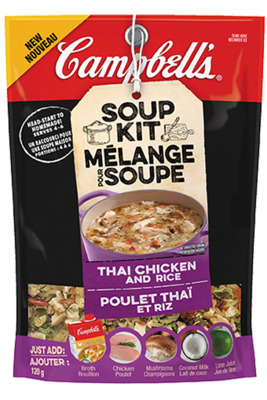 CAMPBELL'S® Soup Kit - Thai Chicken and Rice
Carefully selected ingredients such as rice, fish sauce powder and dehydrated bell peppers, onion, carrots, and shiitake mushrooms form the base of this Thai Chicken & Rice soup kit. Just add Campbell's Chicken Broth, fresh chicken breast, coconut milk, mushrooms and lime juice to create a hearty pot of fresh homemade soup in 45 minutes or less.
- An hour or less from start to finish
- No artificial colours or flavours
VIEW FULL PRODUCT INFORMATION

(opens a new window)
GET MEAL-MAIL®
Sign up for Meal-Mail® to get inspiring recipe
ideas delivered straight to your inbox