Roasted Pork Tenderloin with Mushroom Sauce
Directions
Preheat oven to 425°F (220°C).  In a large nonstick skillet, heat 1 tbsp (15 mL) oil over medium-high.  Season pork all over with salt and pepper, if desired. Sear for 5-7 minutes, turning as needed, until browned all over. Transfer to a foil-lined baking sheet.

Roast pork for 12-15 minutes or until cooked through.  Tent with foil and rest for 5-10 minutes before slicing.

Meanwhile, heat remaining oil in the same skillet over medium.  Add mushrooms, onion, garlic and thyme; cook 4-6 minutes, stirring occasionally, or until mushrooms are lightly browned.

Stir in soup, broth, and vinegar.  Bring to simmer. Reduce heat and cook for 3-5 minutes, stirring often, or until thickened and smooth. Stir through chives.

Slice pork and serve with mushroom sauce garnished with additional chives, if desired.
Recipe Tips
Serve with a medley of steamed vegetables for an easy side dish.
Recipe Made With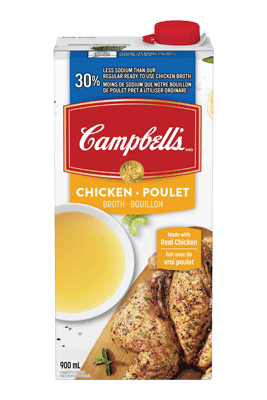 CAMPBELL'S® 30% Less Sodium Ready to Use Chicken Broth
CAMPBELL'S® Condensed 40% Less Salt Cream of Mushroom Soup
Did you make this?
Tell us what you think.
Reviews
Tasty and fast

Recipe was flavorful and the meat was very juicy. Replaced thyme for rosemary as no thyme on hand. Also no chives. I was not sure about adding the vinegar but I did and am glad that I did. It ramped up the taste to richer with a very slight tang. And, I had never thought to sear the pork loin before roasting but it makes a huge difference in tenderness and juiciness. Wonderful meal.

Mar C. | January 12, 2020

Fast and great Tasting

It was exactly what I was looking for, The cider vinegar gives it the little touch it needs to be so good. I will definitely make this again.

Frederica L. | October 4, 2019

Rating by Claudette

This rating was left without a review.

Claudette L. | December 19, 2015

Rating by Estelle

This rating was left without a review.

Estelle G. | December 8, 2015

Rating by judy

This rating was left without a review.

judy f. | October 23, 2015
Thank you for your review!
Please note that your review might take up to 72 hours to appear following submission.
We will let you know when it's posted by sending you an email.
Follow Us
GET MEAL-MAIL®
Sign up for Meal-Mail® to get inspiring recipe
ideas delivered straight to your inbox