Slow Cooker Beef and Mushroom Stew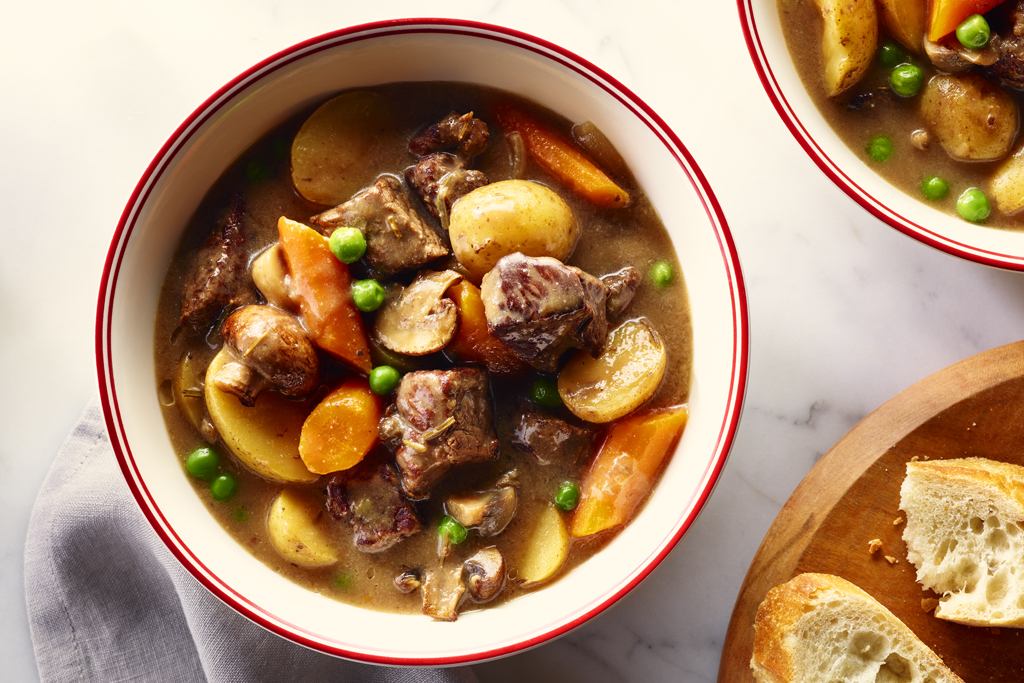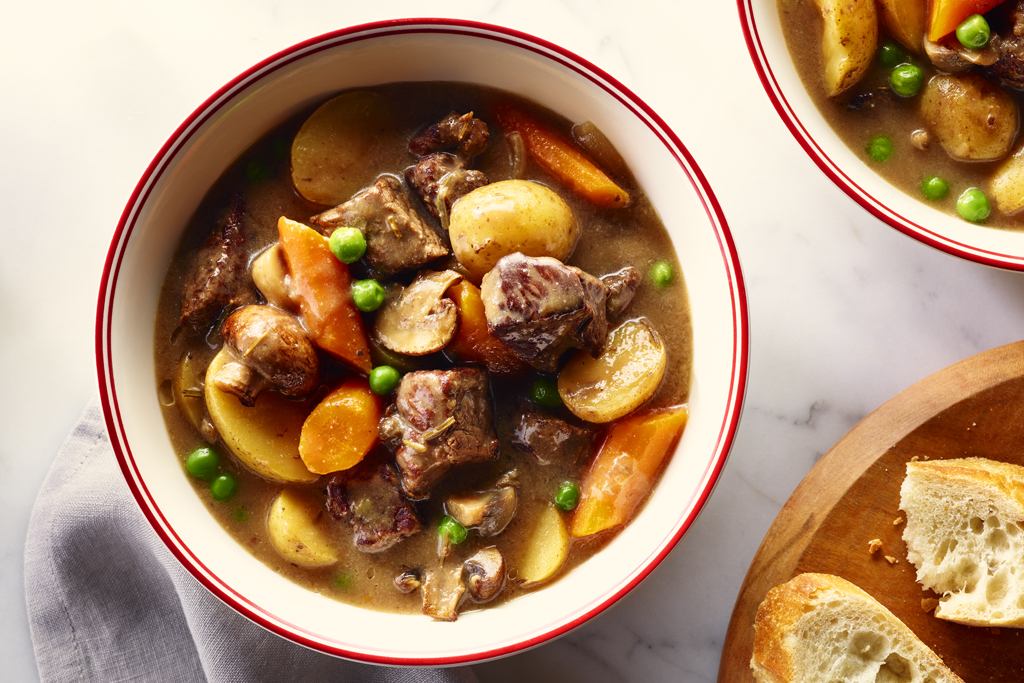 There's no browning required for this super easy and tasty low-sodium beef stew. Just toss the ingredients in your slow cooker and let it simmer away!
Directions
Combine beef, potatoes, mushrooms, carrots, onion, soup, broth, ½ cup (125 mL) of the water, Worcestershire sauce, garlic powder, rosemary, pepper and bay leaves in slow cooker. Cover and cook on low until beef is tender, 8 hours.

Remove bay leaves. Whisk together flour and remaining ½ cup (125 mL) water; stir into slow cooker. Stir in peas. Cover and cook on high until gravy is thickened, about 15 minutes.
Recipe Tips
Using no-salt added soup and broth helps you control the sodium in your recipe. Season this stew with salt to taste, if you like.
Can't find stewing beef cubes? Any cut of beef suitable for pot roasting (check the label for "pot roast") will be excellent in this stew; just cut it into bite-size cubes.
Recipe Made With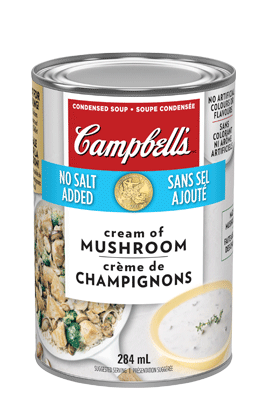 CAMPBELL'S® Condensed No Salt Added Cream of Mushroom Soup
CAMPBELL'S® No Salt Added Ready to Use Beef Broth
Did you make this?
Tell us what you think.
Reviews
Really good stew, perfect for a lazy fall afternoon

I just made this, and it came out great! I bought a boneless blade roast on sale, and cut it and trimmed it into perfect sized cubes, much better than buying "stewing beef" that's already been cut up, and it's cheaper too. I've made different beef stews at least a dozen times so I made a few changes on the first try with this recipe; Added 2 cloves of minced garlic, lowered garlic salt amount to 2 teaspoons. I also browned the meat before, I know the recipe says you don't need to, but trust me, it's worth the extra step - Get a good sear on the cubes using a hot cast iron skillet or Dutch oven but make sure you don't cook the meat! The flavor that develops from the seared meat (look up maillard reaction) is exquisite! I then used the 1/2 cup of water in the recipe to deglaze the pan, mixed in the rosemary, Worcestershire sauce, minced garlic, garlic powder, and pepper and threw that in the pot. Lastly, I didn't add anymore water at the end, I scooped some liquid out of the pot to mix the flour in, there was enough liquid as is. A few notes: It will seem like there isn't enough liquid when you throw everything in the pot, don't worry, there will be a lot of liquid at the end. Also the mushrooms will shrink considerably, so don't cut them up too small, and if the mushroom is an inch or smaller in diameter throw them in whole. Will make it again for sure!

Sam J. | October 20, 2019

Super Stew!

Would 100% make this again. The husband loved it and took leftovers to work 3 days in a row! He loves the fact that it is creamy and full of all his favourites.

Tamara-Jean M. | September 22, 2018
Thank you for your review!
Please note that your review might take up to 72 hours to appear following submission.
We will let you know when it's posted by sending you an email.
Follow Us
GET MEAL-MAIL®
Sign up for Meal-Mail® to get inspiring recipe
ideas delivered straight to your inbox