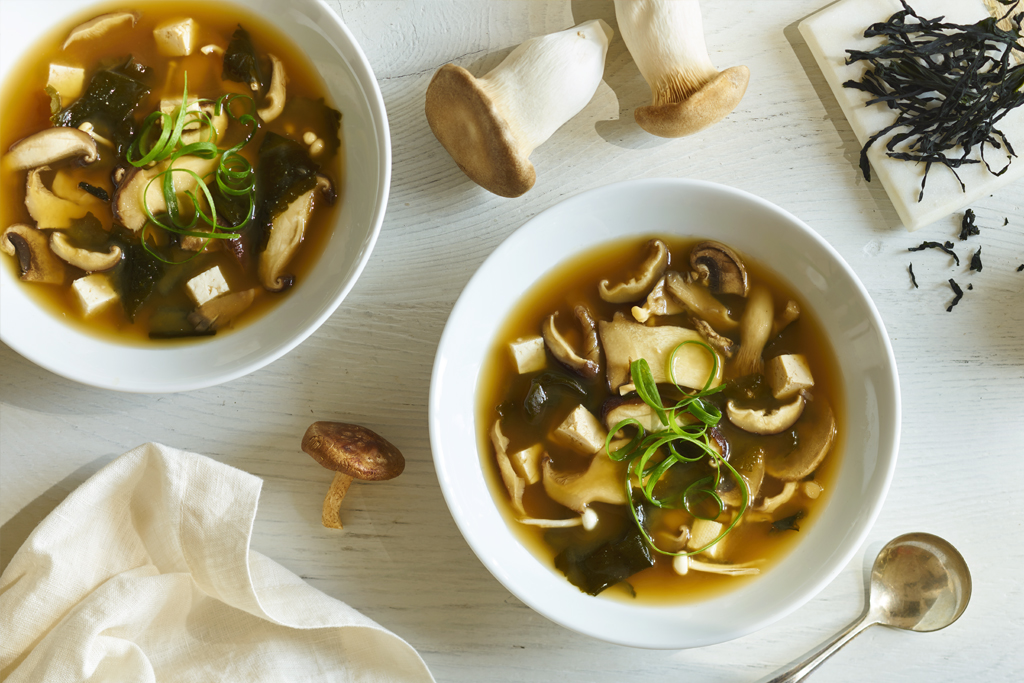 Ingredients
1 carton

CAMPBELL'S ® Ready To Use Mushroom Broth

2 tbsp (30 mL)

white  miso "fermented soy bean paste"

1 tbsp (15 mL)

sake

1/4 cup (60 mL)

dried wakame  seaweed (nori), sliced

1/2 cup (125 mL)

hard or soft  tofu, cut in 1/4" (0.6 cm) cubes

1/3 cup (80 mL)

shiitake mushroom, thinly sliced

1/3 cup (80 mL)

white  mushrooms, thinly sliced

1/3 cup (80 mL)

enoki  mushrooms

1/3 cup (80 mL)

king oyster  mushrooms, thinly sliced

1/2 cup (125 mL)

chopped  green onion
Directions
Pour broth into a medium saucepan, and bring to a low simmer.

Add miso paste and sake and whisk until smooth.

Add dried wakame seaweed, tofu, shiitake, white, enoki and king oyster mushrooms to the pan and cook for another 5 min.

Ladle into bowls and garnish with chopped green onions.
Recipe tips
Add more miso instead of salt to season to taste.
Garnish with cracked black pepper before serving.
Amount Per Serving
Calories
90
Fat
2.5 g
Sodium
960 mg
Carbohydrate
9 g
Dietary Fibre
1 g
Protein
8 g
Calcium
8 %DV
GET MEAL-MAIL®
Sign up for Meal-Mail® to get inspiring recipe
ideas delivered straight to your inbox