Creamy Scalloped Potatoes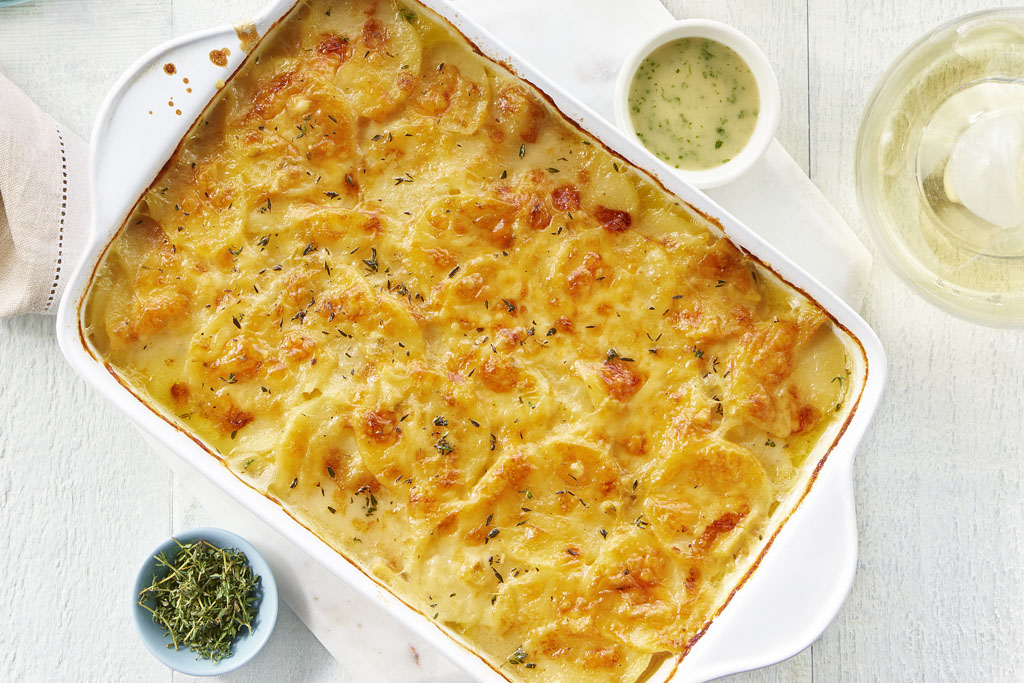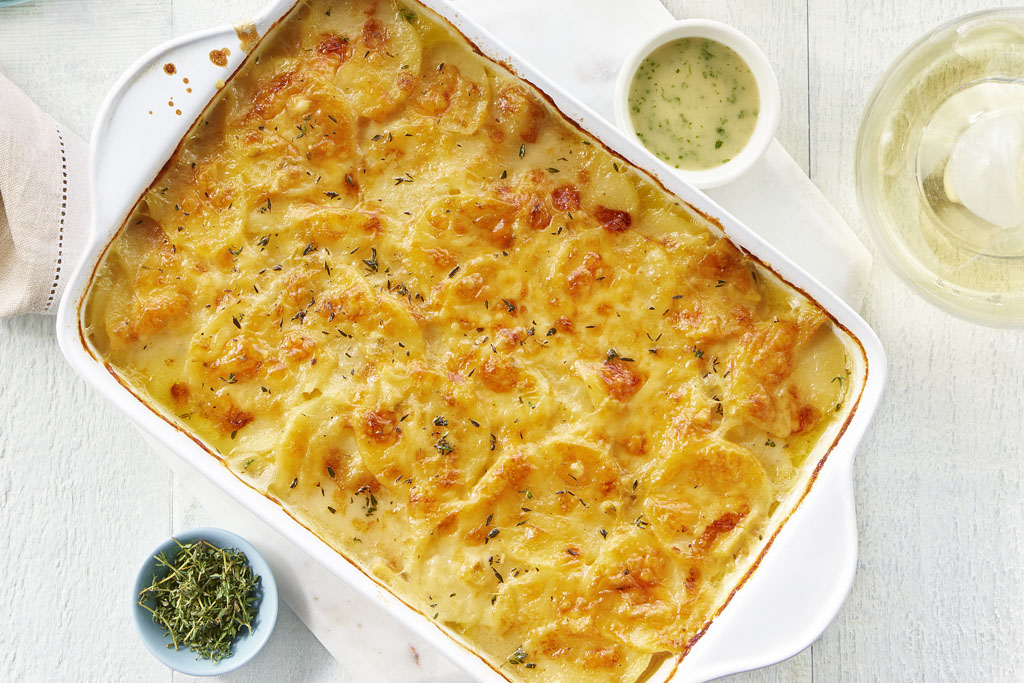 Scalloped potatoes get their creaminess from a blend of Parmesan and Gruyere cheeses, and CAMPBELL'S® Condensed Low Fat Cream of Celery Soup.
Directions
Preheat oven to 375°F (190°C). Melt butter in a saucepan set over medium. Add onion, thyme and garlic. Cook for 5 minutes or until softened. Stir in soup, broth, black pepper, nutmeg and salt. Bring to a simmer.

Meanwhile, layer one-third of the potatoes, overlapping slightly, in a greased 9x13-inch (3 L) baking dish. Sprinkle with 1/3 cup (75 mL) Gruyere cheese and top with one-third of the broth mixture. Repeat the layers twice.

Press down on the potatoes to make sure they are immersed in liquid. Sprinkle the remaining Gruyere cheese and Parmesan cheese on top. Cover the surface directly with parchment paper then cover the pan with aluminum foil and place on baking sheet.

Bake for 60 minutes; remove aluminum foil and parchment paper. Bake for an additional 60 minutes or until potatoes are tender and cheese has browned. Let stand for 10 minutes before serving.
Recipe Tips
Substitute Cheddar cheese or Gouda for the Gruyere, if desired.
Recipe Made With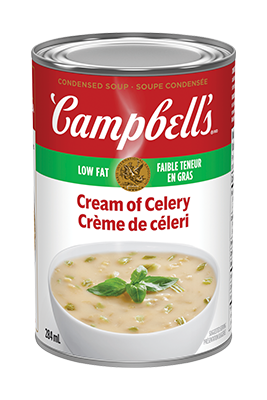 CAMPBELL'S® Condensed Low Fat Cream of Celery Soup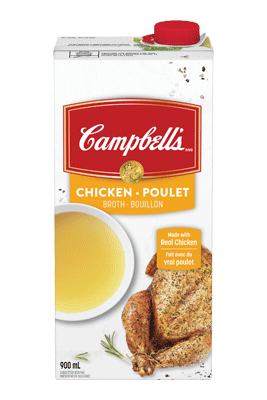 CAMPBELL'S® Ready to Use Chicken Broth
Did you make this?
Tell us what you think.
Reviews
Switch Cream of Celery for Cream of Bacon

We switched the soup to Campbell's Cream of Bacon condensed soup to give it a smokey bacon flavor and it turned out awesome. We couldn't find the gruyere cheese so we used herb & garlic cheddar cheese instead. The family loved it.

Peter R. | December 12, 2017

scalloped potatoes

sounds delicious. will have to try this one. I have been using Campbell's Cream of Cremini & Shiitake Mushroom Soup & add shredded Sharp Cheddar cheese & onions - turns out great as well. only takes about 45 minutes in the oven (maybe less).

Too much pepper in recipe

I was shocked at the 1 tbsp of pepper. I should of trusted my gut. Way too much. My guess is it was supposed to be a teaspoon!! Will make it again but minus that much pepper. Blech!

Debby W. | December 29, 2019

Not like the picure!

After 2-1/2 hours of cooking time it was swimming in liquid and way too salty - and a waste of such expensive cheese. Cut broth in half and use no salt broth, do not add salt. Really not impressed at all.

Paula I. | December 25, 2018

Rating by DJ

This rating was left without a review.
Thank you for your review!
Please note that your review might take up to 72 hours to appear following submission.
We will let you know when it's posted by sending you an email.
Follow Us
GET MEAL-MAIL®
Sign up for Meal-Mail® to get inspiring recipe
ideas delivered straight to your inbox