Creamy Stuffed Mushroom Cap Casserole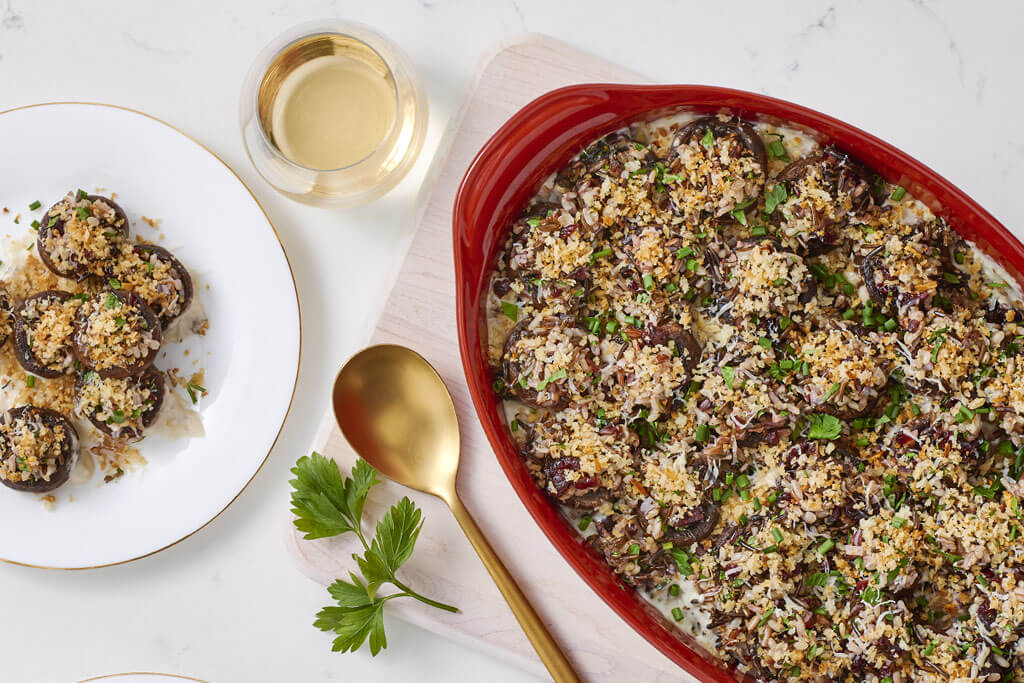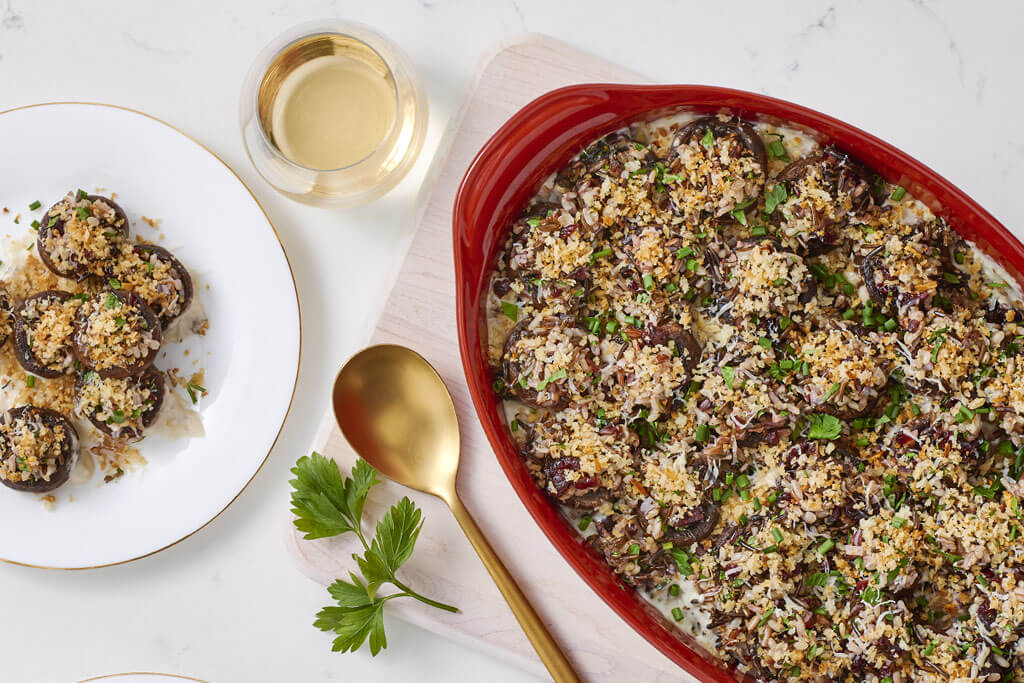 Stuffed mushrooms; already a crowd pleaser. Stuffed mushrooms baked in a creamy cheese sauce; expect zero leftovers. A crowd favourite appetizer in casserole form, what's not to love!
Directions
Preheat oven to 350F. Set aside a 9'' x 12'' casserole dish.

Using a medium saucepan combine broth, mushroom soup, and rosemary over medium heat, whisk to combine, bring to a boil, reduce heat to low, stir in cream cheese, and simmer for 5 minutes. Pour into base of the casserole dish and place mushroom caps, upside-down into the sauce.

Combine the cooked rice, cranberries, 2 tbsp parsley, and salt in a medium bowl. Use a spoon to fill the mushroom caps with about 2-3 tbsp rice mixture each. Sprinkle any remaining rice in between the mushrooms in the sauce.

Melt butter in a frying pan over medium-high heat. Once melted add breadcrumbs, and toast for 3-5 minutes, or until golden. Stir in parmesan. Sprinkle over top of the mushrooms.

Bake uncovered for 35 minutes or until golden and toasted. Let rest for 10 minutes.
Recipe Tips
Cook rice according to package (1 cup rice, 2 cups liquid), try using CAMPBELL'S Beef Broth instead of water to add even more flavour to the rice.
Additionally, you could use any leftover grain or rice dish for your mushroom filling, why not try our Pressure Cooker Barley Mushroom Pilaf.
Garnish with chopped parsley or chives.
Recipe Made With
CAMPBELL'S® No Salt Added Ready to Use Beef Broth
CAMPBELL'S® Condensed 40% Less Salt Cream of Mushroom Soup
Did you make this?
Tell us what you think.
Reviews
Thank you for your review!
Please note that your review might take up to 72 hours to appear following submission.
We will let you know when it's posted by sending you an email.
Follow Us
GET MEAL-MAIL®
Sign up for Meal-Mail® to get inspiring recipe
ideas delivered straight to your inbox