Chicken Enchilada Skillet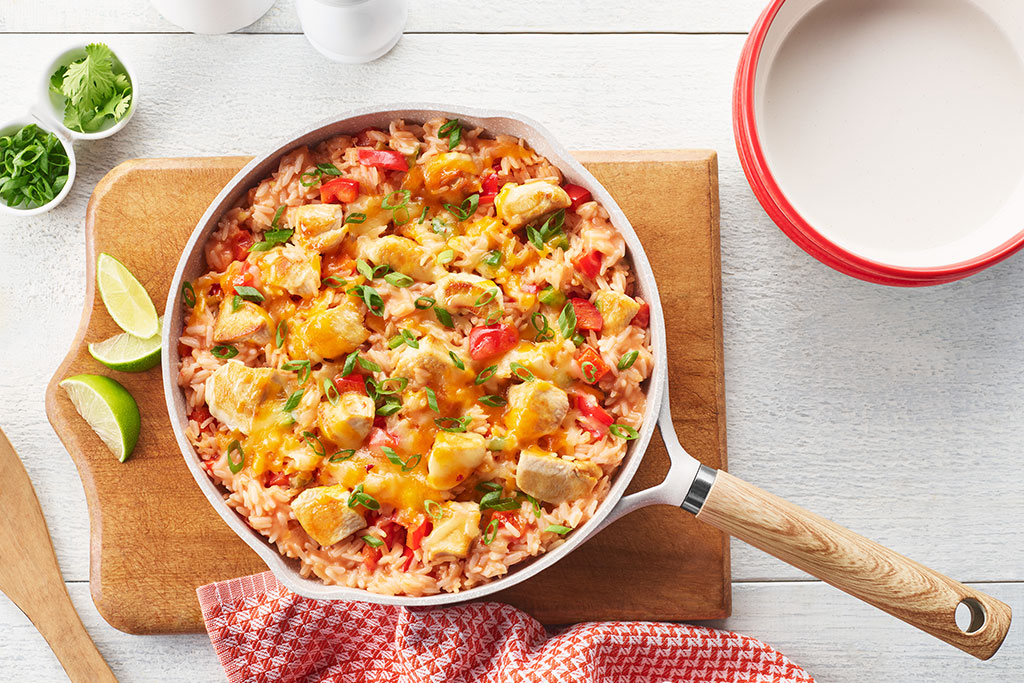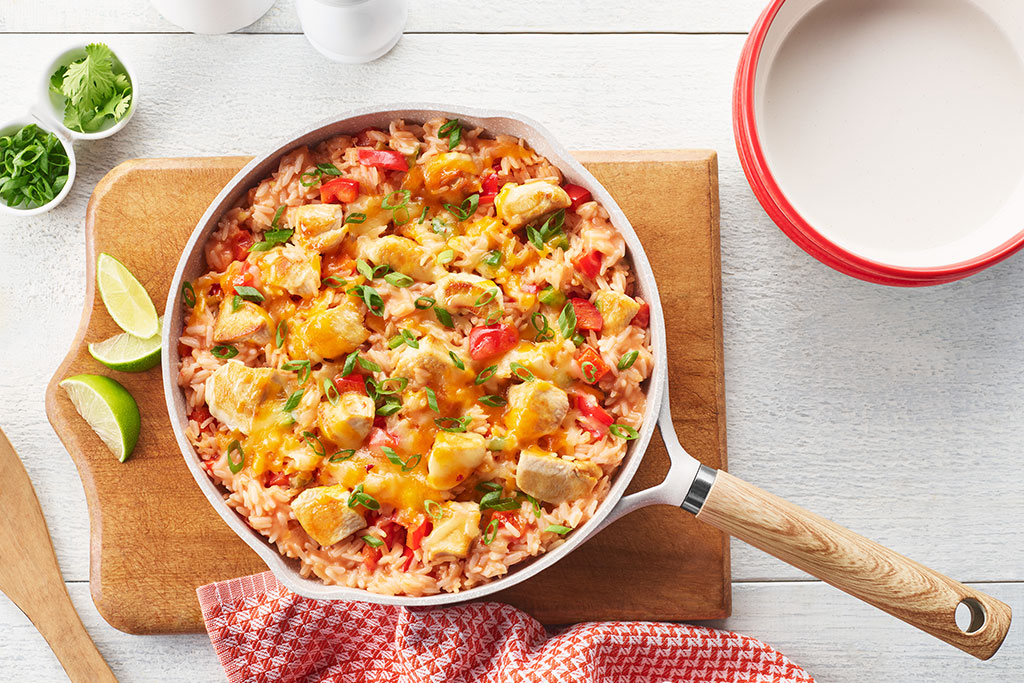 Feel like having enchiladas tonight but don't want to fuss around with the stuffing and baking? This one-dish rice skillet has all the flavour of enchiladas, comes together in record time and the rice and chicken cook to perfection right in the sauce. 
Directions
Season the chicken as desired. Heat the oil in a large deep nonstick skillet over medium-high heat. Add the chicken and cook, stirring occasionally, 5 minutes or until browned. 

Add the peppers, garlic and chili powder. Cook and stir for 2 minutes or until starting to soften.

Stir in the soup, water and salsa; heat to a boil. Stir in the rice. Cover with a lid, reduce the heat and simmer for 5 minutes.

Sprinkle with the cheese. Cover and remove from the heat. Let stand for 5 minutes or until the rice is tender, the liquid is absorbed and the cheese is melted. Sprinkle with the green onions.
Recipe Tips
Serve with chopped fresh cilantro and lime wedges if desired. 
To save time, cut your peppers and garlic while the chicken is cooking. 
Recipe Made With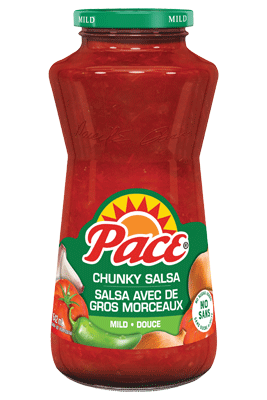 PACE® Chunky Mild Salsa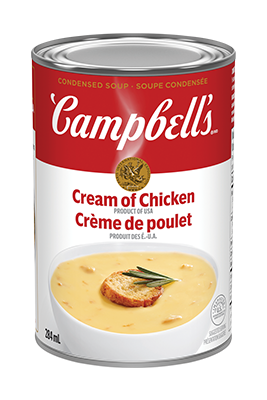 CAMPBELL'S® Condensed Cream of Chicken
Did you make this?
Tell us what you think.
Reviews
Very tasty!

Made this for dinner tonight. Very tasty! I've made similar dishes, but never would have thought to add the soup. It adds a nice creaminess. I added a sauteed onion, a can of black beans and about a cup of corn niblets. I used about half a pack of taco seasoning in place of the chili powder. I was using long grain rice, so I doubled the water and increased the cooking time to about 30 minutes. I love that it was pretty easy to make and cooked all in one pan. I will definitely make this again!

Tina C. | October 25, 2019

Watery

Great idea. But I had to almost triple the amount of rice so it wasn't soup. Extra cheese never hurts either.

Wade C. | August 29, 2020

Easy Mexican Dinner!!!!

During Xmas holiday, I invited my mom to my place for supper and I cooked chicken enchilada skillet - a warm meal with aroma for winter. I cooked that is easy, quick, and delicious. I shared to my mom and we had it with vegetables as a side. We love that meal very much!!! MMMMMMMM!!!! So good!!!!

Eric S. | January 18, 2020

Delicious & nutritious!

Added cumin during cooking. Subbed a can of condensed tomato soup for the cream of chicken soup. Used medium salsa rather than mild. Very pleased with the results! Definitely add a good squeeze of lime & chopped cilantro before serving. We ate this with corn tortillas & a dollop of sour cream - amazing!

Carole D. | January 9, 2020

Delicious

I added more spices to the chicken, like cumin and coriander and used a mix of green, red, orange and yellow peppers but otherwise followed exactly and supper was a huge hit. I was pleasantly surprised how delicious this recipe turned out. I will definitely be making this on a regular basis! 1000% loved it!

Hannah M. | September 18, 2019
Thank you for your review!
Please note that your review might take up to 72 hours to appear following submission.
We will let you know when it's posted by sending you an email.
Follow Us
GET MEAL-MAIL®
Sign up for Meal-Mail® to get inspiring recipe
ideas delivered straight to your inbox