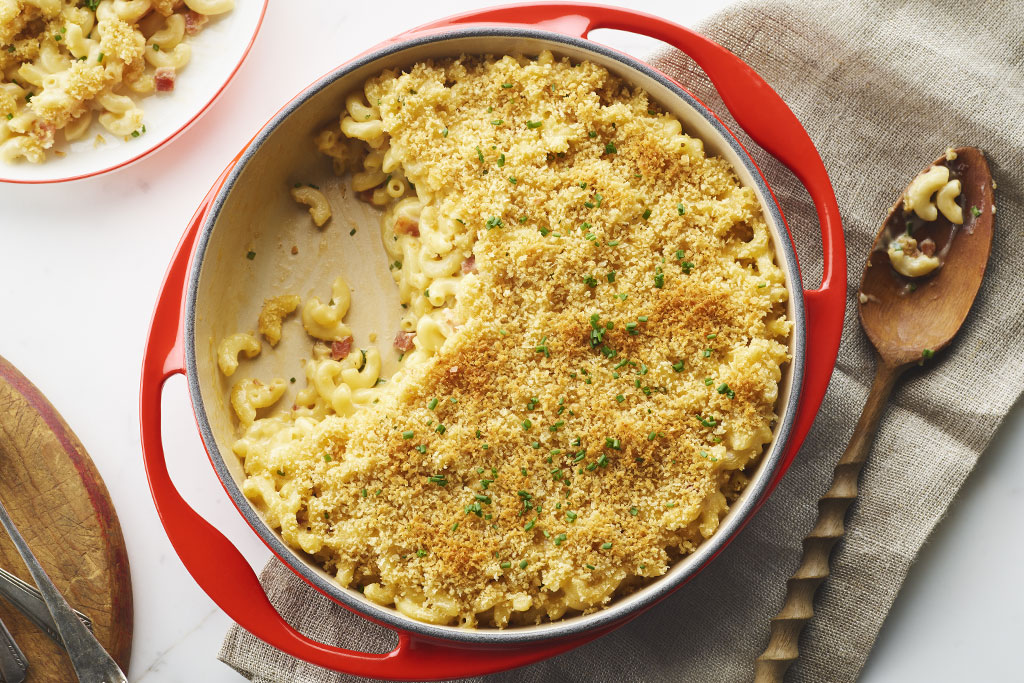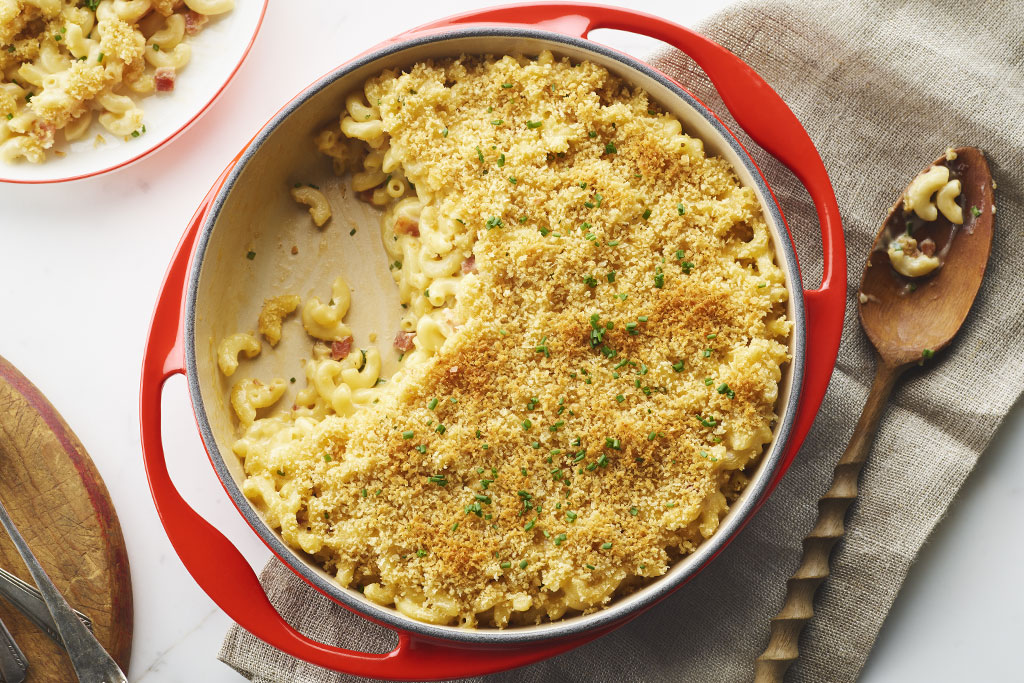 Bacon lovers rejoice, we've got your new favourite comfort food! This quick homemade macaroni and cheese recipe will satisfy your cravings with its cheesy and creamy sauce. Want even more bacon flavour? Add some crisply cooked bacon to the sauce!
Bacon Macaroni and Cheese Directions
Preheat oven to 425°F (220°C). Grease a 2 qt (1.9 L) baking dish or large baking pot, set aside

In a large bowl, whisk together cream of bacon soup and milk until smooth. Stir through shredded cheese, chives and cooked elbow macaroni to combine. Transfer mixture to prepared baking dish.

In a small bowl, combine breadcrumbs and melted butter; sprinkle over pasta. Bake the mac and cheese for 15-20 minutes or until hot and bubbling.
Recipe Tips
For More Bacon Flavor
Add 2 tbsp (30 mL) crumbled, crisply cooked bacon to the cheese sauce.
Macaroni Type
Try replacing the elbow pasta with your favourite shape (penne, rigatoni, butterfly, etc.) for a new twist on mac and cheese.
Spices to Add
Looking to spice up your bacon mac and cheese recipe? Try adding cayenne pepper, black pepper, hot sauce, or green onions.
Experiment With Different Cheese
Lastly, feel free to experiment with different cheeses! Try this recipe with white cheddar cheese, cream cheese, or Monterey jack cheese.
Check out our other recipes with cream of bacon soup, such as our
Quick Chicken Bacon Pasta
, or our
Chicken Bacon Risotto
.
Did you make this?
Tell us what you think.
Reviews
Creamy Bacon Mac and Cheese

Just made this tonight for dinner, it was a success! My eight year old loved it, had two servings! I doubled the recipe and baked in two loaf pans. I used a little extra cheese and extra bread crumbs, just personal preference. Next time I will definitely add some real bacon. I think this is a perfect recipe when you're running short on time, simple and quick!

Tracey M. | August 1, 2017

So Easy!!!

This is a time saver when a quick meal is needed! My kids even do it which shows how fast and effortless this dish is! We all love the taste!!

Luba T. | December 12, 2017

So good

I have made this recipe many times and love it! I add almost an extra cup of cheese though and a bit more breadcrumbs. Also I just tried it for the first time today using gnocchi and it was soooo good!

Bacon cheeseburger shells

I used this recipe but instead of just a mac and cheese, I used extra large noodles stuffed with cheeseburger style groundbeef baked in the dish topped with extra cheese.

Victoria W. | February 15, 2020

Delicious!!!!

I didn't have the recommended cheese, so I used Walmart's own brand shredded light/medium cheddar, parmesan and mozzarella mix. I used a bit more cheese then the recipe calls for and added extra bacon bits. I will definitely will be making it again and I would recommend it!
Thank you for your review!
Please note that your review might take up to 72 hours to appear following submission.
We will let you know when it's posted by sending you an email.
Follow Us
GET MEAL-MAIL®
Sign up for Meal-Mail® to get inspiring recipe
ideas delivered straight to your inbox