Sweet Chili Ginger Chicken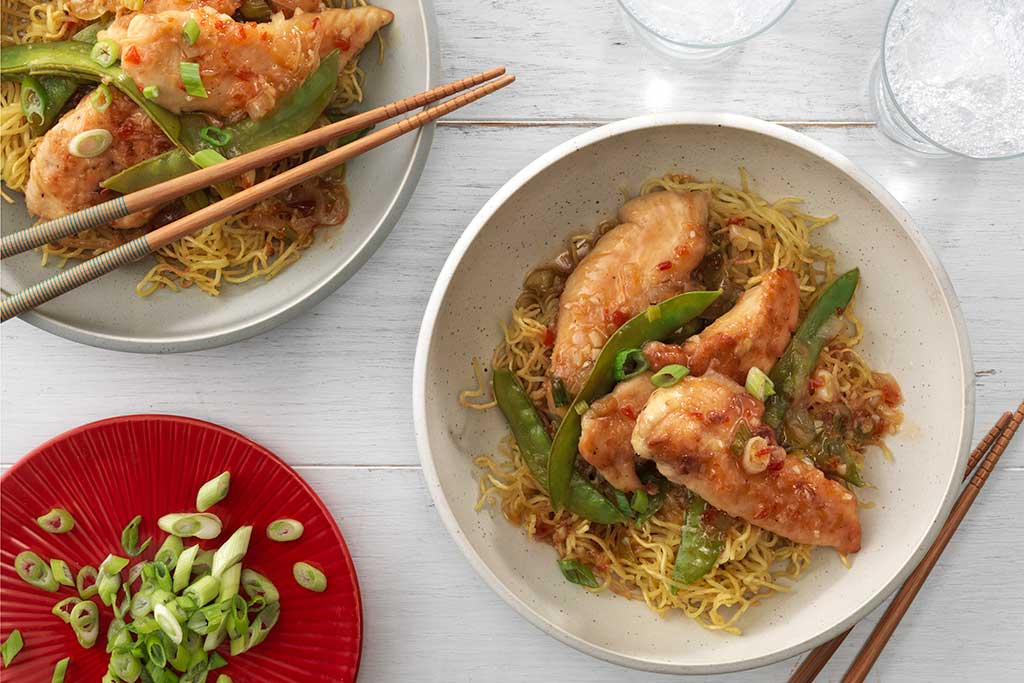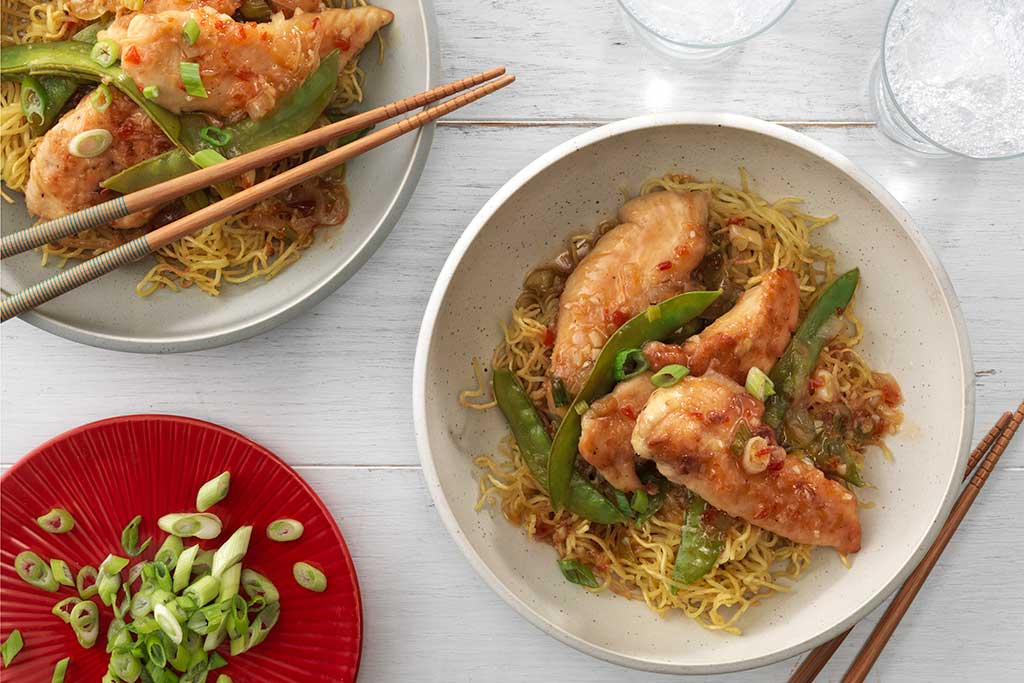 This excellent chicken dish adds a splash of chili and ginger to spice up dinner.
Directions
Combine flour with black pepper. Add chicken and toss in seasoned flour. Shake off excess and set aside.

Heat 2 tbsp of olive oil in a large skillet over medium-high heat. Add chicken and cook for 3-4 minutes until browned. Remove from pan and set aside.

Add 1 tbsp of oil to skillet and heat to medium-high. Add onion and cook for 2 minutes. Add ginger and garlic and cook for another 2 minutes.

In a mixing bowl combine the stock and sweet chili sauce. Pour over onion mixture and cook,stirring for 2 minutes until sauce is well combined.

Add the chicken and cook stirring for 2 minutes until heated through. Add snow peas and half the spring onions and cook for a minute. Garnish with remaining spring onions.
Recipe tips
For a thicker sauce you can add 1 tbsp of corn starch if desired
Season with soy sauce to taste.
Did you make this?
Tell us what you think.
Reviews
GREAT

was quick and relatively easy to make. even my old fashioned, picky eater, father loved it and his diet mainly consists of bland mashed potatoes and burnt red meat! just as good in the next day or two for lunch at work or school. i followed the recipe exactly the same but for adding a little cornstarch to make the sauce have a little bit more of a restaurant made texture. served with a warm beansprout salad.

kathleen w. | July 13, 2017

Review by Christine V.

I made this the other night for my family and we loved it. I followed the recipe exactly and used Heinz chili sauce. I also added 1 tsp hot pepper puree to kick up the heat a bit and it was perfect. My teens loved it especially!

Christine V. | September 1, 2016
Thank you for your review!
Please note that your review might take up to 72 hours to appear following submission.
We will let you know when it's posted by sending you an email.
Follow Us
GET MEAL-MAIL®
Sign up for Meal-Mail® to get inspiring recipe
ideas delivered straight to your inbox